In Memory
Miss Agnes Ruby Clark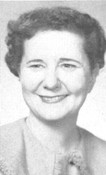 Natchitoches Times, Natchitoches, Louisiana, October 2, 1975, pg 5A
Funeral Services Held for Agnes Ruby Clark
Miss Agnes Ruby Clark died Thursday, Sept. 25 at Natchitoches Parish Hospital.
She was a lifelong resident of Natchitoches and was the daughter of the late Charles Bartlett Clark and Mrs. Fannie Penola Barnhill Clark.
Miss Clark received her early education in Natchitoches schools and earned a degree in library science at Louisiana Normal, now Northwestern State University. She also held a bachelor of science degree from Louisiana State University and attended Texas Christian Women's University at Denton, Tex.
She taught at Natchitoches High School and was librarian there for some 12 years. She set up the library school at Nicholls State University in Thibodaux and taught there for 15 years.
Miss Clark was listed in Who's Who in American Colleges. Two library scholarships at Nicholls have been set up in her honor.
She filled a short term mission for the Church of Jesus Christ of Latter Day Saints and has been active in all auxillaries and in many capacities all of her life. Especially did she enjoy working with the young children of the church and tried to instill in them a love for good literature. She taught LDS Institute at Northwestern since her retirement in August, 1974.
Funeral services were conducted Saturday at 2 p.m. in the Church of Jesus Christ of Latter-day Saints. Bishop Leroy Johnson officiated and interment was in Fern Park Cemetery. Blanchard-St. Denis Funeral Home was in charge.
Survivors include four sisters, Mrs. T. H. Cagle, Miss Gladys Clark, Mrs. Fern Ainsworth, and Mrs. Vannie Rogers, all of Natchitoches, and two brothers, Charles Elijah Clark of Winnfield, and George W. Clark of Natchitoches.
Pallbearers were Jimmy Perce, Melvin Clark, Billy Ray Clark, Mike Cargle, Chuck Charles Clark, and Clem Pendarvie.