In Memory
Joe Hubert Strickland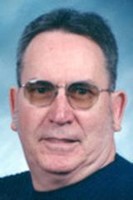 Mar 27, 2014 - Just received word Hubert passed away on Feb 9, 2014. I will post an obituary as soon as I get one.
Effingham Daily News, Effingham, IL
February 8, 2014
Joseph Strickland

Effingham Daily News
---- — Joseph H. Strickland, 71, of Effingham, passed away on Sunday morning, Feb. 9, 2014 at St. Anthony's Memorial Hospital in Effingham surrounded by his loving family.
Funeral services will be held at 12 p.m. Wednesday at Hall Funeral Chapel in Effingham with Fr. Albert Allen officiating. Visitation will be from 10 a.m. until service time Wednesday and burial will be in St. Anthony Cemetery in Effingham. In lieu of flowers, memorials may be made to the donor's choice. Condolences may be left online at www.hallfuneralchapel.com.
Joseph was born on April 27, 1942 in Montgomery, La., the son of Wayman and Leanna (Lonadier) Strickland. He married Normalie Richards on March 20, 1965 in Phoenix, Ariz. Joseph joined the U.S. Air Force on June 4, 1962 and served his country until he was discharged on June 3, 1966. He was a semi driver and drove over the road for many years. He was an owner/operator and owned Strickland Shuttle Service here in Effingham, and also transported a lot of goods for the Fedder's Corp.
He was a member of St. Anthony of Padua Catholic Church in Effingham, Effingham Knights of Columbus Council Post 665, Welcome to My World of Springfield, Disabilities in Christ in Effingham, Embarras Valley Multiple Sclerosis support group in Mattoon, and he was a founding member of the GAIL-CIL in Effingham.
Survivors include his wife, Normalie; brother, Robert Strickland of Ball La.; a niece, Rebecca; and a nephew, Tyler.
He was preceded in death by his parents and a sister-in-law, Janelle.
Sign the guestbook at www.effinghamdailynews.com.