In Memory
Sidney Dowden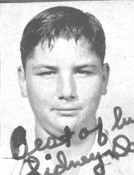 Have just made contact with Sid's daughter who says he died when she was eight years old. I'm asking her for more information.
Found the following that could be Sid but will need to verify.
Sidney Carroll Dowden. Born 19 Nov 1942. Died 13 Mar 1982. Buried Brooks Chapel Cemetery. Quitman, Jackson Parish, LA
The lady posting on Sid's page as his daughter says he died in 1983 in Tampa, FL and body was cremated. I'll try to locate an obit.