In Memory
Irma Tarver (Lewis)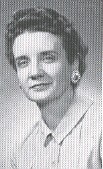 Born September 23, 1919 - Died December 17, 2004
Daily Town Talk, Alexandria-Pineville, LA, December 19, 2004
Irma Tarver Lewis
Services for Mrs. Irma Tarver Lewis will be held at 3:30 p.m. Sunday, Dec. 19, 2004 in Blanchard St. Denis Chapel with the Rev. Tommy Rush officiating. Burial will be in Memory Lawn Cemetery at Natchitoches.
Visitation will be Sunday, Dec. 19, 2004 from 8 a.m. until service time in the funeral home.
Mrs. Lewis, 85, of Natchitoches, died Friday, Dec. 17, 2004 at Natchitoches Parish Hospital in Natchitoches.
She was a native of Franklin Parish. She was a retired business education teacher for the Natchitoches Parish School Board. She was a teacher adviser for Future Business Leaders of America and received numerous awards, the most notable was national recognition with the F.B.L.A. Wall of Fame in the national headquarters in Reston, Va. She received the Louisiana Business Education Association Teacher of the Year in 1972 and was president of the Louisiana Vocational Association from 1971 - 1973. She was a member of First Baptist Church, Ruth Sunday school class, and did extended work for Love N Care Mission. She was a member of the Alpha Delta Kappa Honorary Sorority and the Natchitoches Chapter of Order of the Eastern Star #13. She was a past member of the Daughters of American Revolution, Colonial Dames and Magna Charta. She was a bridge Life Master.
She was preceded in death by her husband, Clarence Wesley Lewis, Sr.; parents, Vannor Taylor Tarver, Sr. and Theo Docia Barber Tarver; and brothers: Vannor Taylor Tarver, Jr. and Frank "Little Frank" Tarver.
She is survived by one son, C. W. Lewis, Jr. of Natchitoches; one sister, Lottie Wilkins and husband Boyd of Columbia; aunt, Mary Alice Cook and husband Dr. Roy Cook of Natchitoches; four nieces and four nephews and extended family, Jean Doerge of Minden.
Pallbearers will be Edwin Dunahoe, Roger Williams, Jimmy Field, Ed Breedlove, Randy LaCaze and Buddy Gahagan.