In Memory
Charles Gilbert Scarborough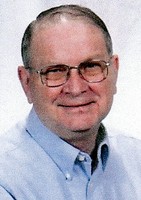 Services for Mr. Charles Gilbert Scarborough, 71, of Fairview Alpha, Louisiana will be at 10 a.m. on Saturday, December 17 at Fairview Baptist Church in Fairview Alpha, south of Coushatta, Louisiana. Bro. Matt Endris will conduct the services. Interment will follow at Fairview Cemetery. The family will receive friends at Rockett-Nettles Funeral Home in Coushatta on Friday, December 16 from 6 - 8 p.m.

Gilbert was born on November 18, 1940 and died on Wednesday, December 14, 2011. He was the son of Alvin Beno Scarborough and Myrtle Scott Scarborough. After serving three years in the United States Army, he worked for 32 years as a Shreveport firefighter, retiring as a District Chief. Gilbert was known to his co-workers as "Friday" and to family and friends as "PaPa Gil".

Gilbert was preceded in death by his parents, a beloved step-father Julius "Pete" Dietrich, sister Dottie Scarborough McGreal, and brother Gwen Dale Dietrich. He is survived by his wife of 48 years, Marilyn McGee Scarborough, a daughter Gina Holstead and husband, Lee; sons Nathan Scarborough and wife, Karen and Lonnie Scarborough and wife, Ginger. Grandchildren: Clancy and Clay Scarborough, Justin and Katie Holstead, and Lucas and Graham Scarborough. He is also survived by his sisters, Minnie Evelyn Steadman and Alice Bagley and husband Cleve and his brothers, Cecil Scarborough and wife Melba, Marion Dietrich and wife Jane, Charles Wayne Dietrich and wife Ann, as well as many nieces, nephews, and friends.

Serving as pallbearers will be Bo Bohannon, Emmitt Ray Cason, Kenneth McDonald, Troy Murray, Roger Ross and Richard Waters.

The family wishes to thank Bro. and Mrs. Matt Endris and the members of the Fairview Baptist Church and his many friends and family for their expressions of concern and encouragement during Gilbert's hospital stay and during this time of loss.

Memorial donations may be given to the AWANA Bible Memory Program for Children at Fairview Baptist Church, 104 Hwy 71/84, Coushatta, LA 71019.

Obituary was posted in the Natchitoches Times and the Shreveport Times on Friday, 16 Dec 2011.