In Memory
Leo Griffith VIEW PROFILE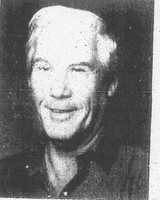 Wife: Vivian Tanner, NHS Class of 1960
The Natchitoches Times, pg 2A, 11 Jul 2000
Leo Griffith
Services for Leo Griffith, 58, of Jamestown will be held Wednesday, June 12, at 10 a.m. at Rockett Nettles Funeral Home Chapel with Bro. James McDonald and Bro. Eric Hodge officiating. Burial will follow in Andrews Chapel under the direction of Rockett Nettles Funeral Home in Coushatta.
Mr. Griffith died Monday, July 10, 2000.
He is survived by his wife, Vivian Griffith of Jamestown, three sons, Mike Griffith of Provencal, Malcolm Griffith of Jamestown and Spencer Griffith of Fairview Alpha; three daughters, Tracey Fisher of Ringgold, Tammy MacLauren of Cumming, Ga., and Donna Spears of Natchitoches; two brothers, Vince Griffith of Heflin and Lamar Griffith of Abbeville; two sisters, Inez Anderson of Quitman and Thelma Sanders of Winnsboro; 14 grandchildren, and numerous nieces and nephews.
The family wishes to express their sincere thanks to the doctors and staff at Willis-Knighton, Pierremont and especially to the nurses on 4 East and Respiratory. Visitation will be at the funeral home at 6 p.m. Tuesday, July 11.
Click here to see Leo's last Profile entry.