In Memory
Judy Ann Wright (Wilson)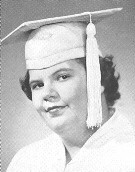 Mayfield Messenger, Mayfield, KY, 10 Mar 1997
Judy Ann Wilson
Judy Ann "Juju" Wilson, 54, of 346 State Rt 1710, Mayfield, died at 5:45 p.m. Saturday, March 8, 1997 at her residence.
She was a member of the 7th and College Church of Christ.
She is survived by her husband Lonnie Wilson; one daughter, Samantha Harpole, and two grandchildren.
She was preceded in death by her parents, Sam Frank and Edna Eliza Wicker Wright.
Services for Mrs. Wilson will be conducted at 11 a.m. Tuesday at the Bryn Funeral Home Chapel in Mayfield with Hilton Royster officiating. Burial will follow in the Bethel Church of Christ Cemetery.
Friends may call after 5 p.m. this (Monday) afternoon and evening at the Bryn Funeral Home in Mayfield.