In Memory
Mary Yvonne Stephens (Tumminello)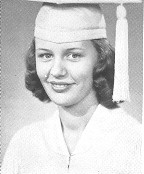 Hixson Brothers Funeral Homes, Alexandria, LA
Mrs. Yvonne Tumminello
(August 9, 1942 - January 14, 2013)
Services celebrating the life of Mrs. Yvonne Stephens Tumminello will be held at 3:00 p.m. Saturday, January 19, 2013 at the First United Methodist Church, Alexandria, with Reverend Barry Hoekstra, officiating. Burial will follow at Greenwood Cemetery, Pineville, under the direction of Hixson Brothers, Alexandria.
The family asks that visitation be observed Friday, January 18, 2013, at Hixson Brothers, Alexandria, from 5:00 p.m. until 8:00 p.m. and will continue Saturday from 8:00 a.m. until time of service.
Mrs. Yvonne Stephens Tumminello of Alexandria, after quietly battling lymphoma at MD Anderson Cancer Center in Houston, Texas, went to be with the Lord on January 14, 2013. She was preceded in death by her father, Elijah Stephens, mother, Rebecca Brown Stephens, and brothers, Marvin and Kenneth Stephens.
Yvonne was born August 9, 1942 in Natchitoches, Louisiana. She obtained her master's degree in psychology from Northwestern State University in Natchitoches and continued to educate herself with additional coursework and certifications throughout her life. She worked for many years in the Rapides Parish school system as a school psychologist specializing in early childhood development of the handicapped. Earlier in life she also worked for the Chamber of Commerce in Shreveport, Louisiana and the Louisiana Department of Revenue in Alexandria.
Mrs. Tumminello was a faithful Methodist and spent countless hours of service devoted to church organizations, particularly the United Methodist Women. She was passionate about keeping an immaculate home and took great pride in serving her family's favorite homemade meals.
Mrs. Tumminello is survived by her husband of forty-four years, Charles Robert Tumminello; son, Stephen Robert Tumminello and daughter-in-law, Courtney Potter Tumminello, both of Houston, Texas; and sister, Sandra Stephens Owecki and her husband John Owecki, both of Natchitoches; and her niece, Johnna Oweki.
Pallbearers proud to serve will be Wilson Cedars, Jesse Doyle, John Owecki, Jimmy Rush, Scotty Stevens, and Greg Wasson. Honorary pallbearers are Bob Rowe and Mike Wahlder.
She will be remembered fondly as a devoted wife, mother, and homemaker.
In lieu of flowers, memorial donations may be made in Yvonne's name to MD Anderson Cancer Center in Houston, Texas at www.mdanderson.org/gifts.